The Complete Dispensary Furniture Range
Manage More Volume in the Same Space
Modular, Adaptable, Durable Metal.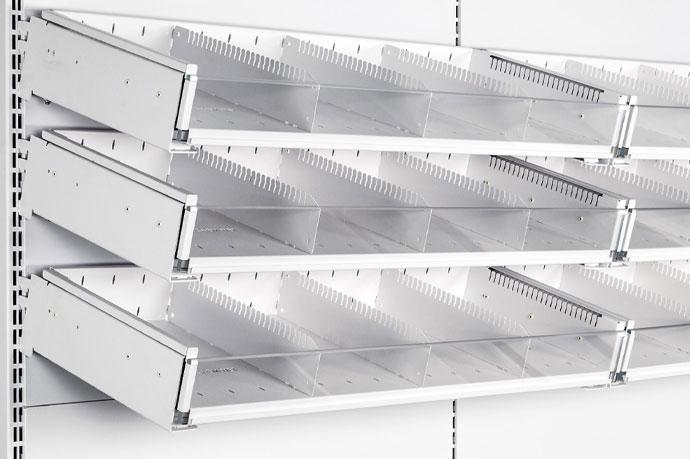 Medidrawer

---
CAEM Medidrawer is an 8cm high pull out pharmacy drawer system designed for high density medicine storage and retrieval. Fully configurable, the pull-out design comes with a range of dividers and can be fitted horizontally, inclined, partly horizontal and partly inclined.

Medidrawer is suitable for above or below the counter, and can be arranged in banks.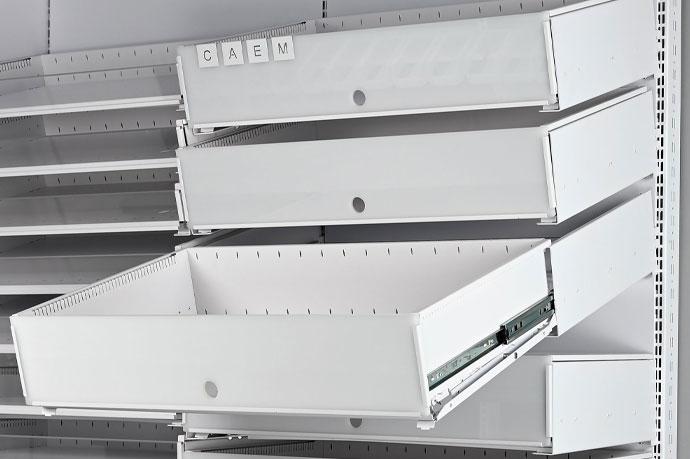 Readydrawer

---
CAEM Readydrawers are 15cm high and connect to the D25 structure at any desired height, either horizontally or inclined at 15°. These pharmacy drawers have full width handles and automatic locking when closed or when fully opened.

Organisation is easy with back-to-front and side-to-side dividers and frosted acrylic risers ensure client privacy.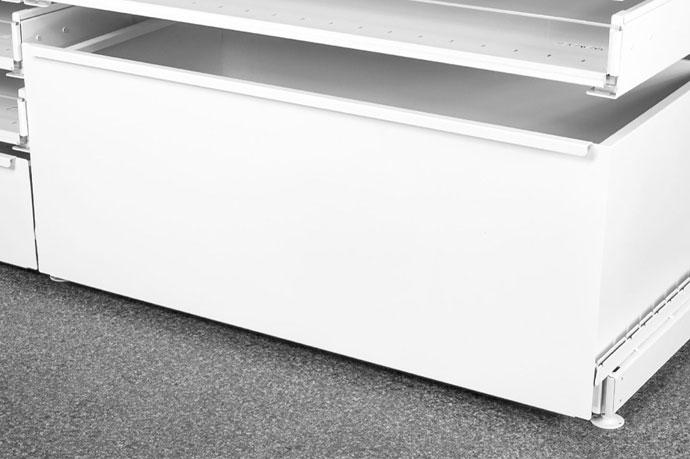 Floordrawer
---
To make the most of the floor space, we recommend the use of CAEM Floordrawer's to store larger items and boxes. They are available in two heights: 23cm and 43cm.

Built in durable steel, they run freely on the floor.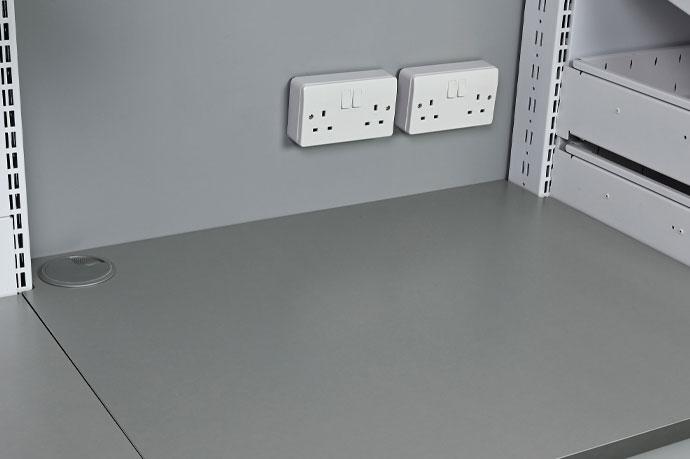 Worktops
---
D25 has worktops designed for pharmacy and dispensary. Available in a selection of colours and formed from solid 25mm thick hard wearing, chip resistant and heat resistant laminate with ABS edging.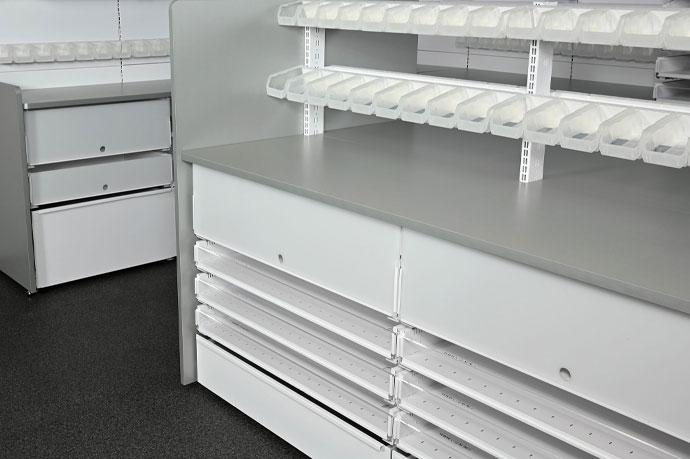 Timber Side Panels

---
CAEM D25 is available with open sides, but also has a range of sides to close off the ends. These are manufactured from 25mm laminate with ABS or laminate edges, and are available in a range of colours to suit your needs.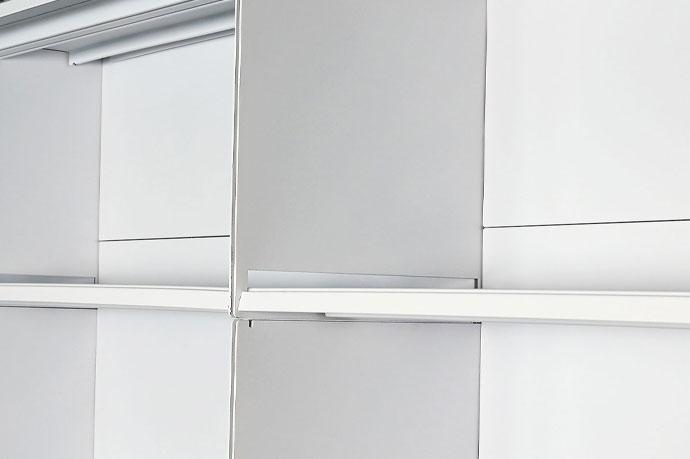 Flexible Shelves

---
D25 is based on the time tested M25 shelving solution. Our shelving fits around your needs and the needs of your pharmacy. Our shelves are Steel, hard wearing and coated in our specialist antimicrobial coating to help reduce cross contamination, increase hygiene and keep your teams safe.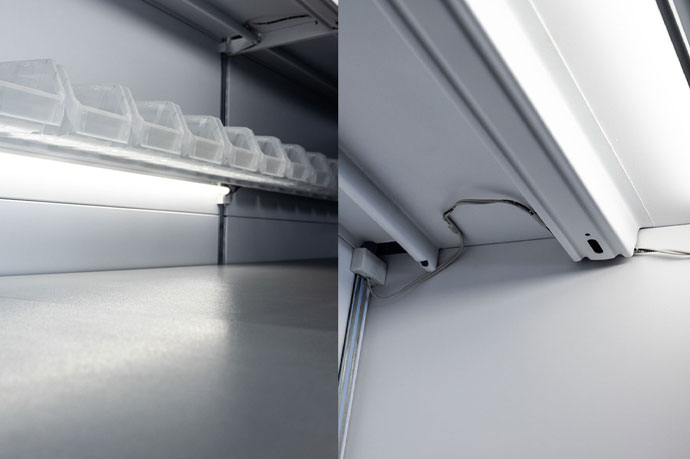 LED Lighting

---
CAEM's ARDENTE Modular LED lighting solution provides instant light in your Pharmacy. The magnetic fixtures mean that it is simple to configure and re-configure as your pharmacy changes.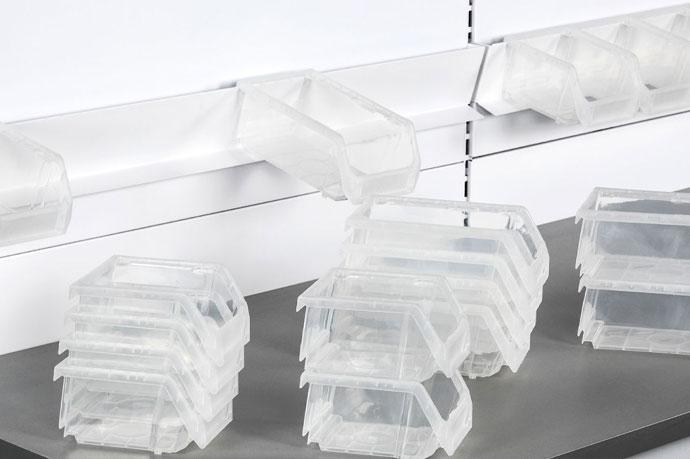 Trays

---
CAEM's BSN Trays are manufactured in durable frosted transparent plastic.

Trays can be hung using the specially adapted bar, that simply clips into the system. They are simple to label, and can be stacked when not in use.

Space Saving for Pharmacy Solutions
D25 pharmacy solutions fits to you and your needs. Maximising your pharmacy storage and making better use of the
space you have.


Flexible to your needs.
D25 pharma storage solutions have a modular steel construction allowing for simple reconfiguration to your future requirements.

Reliable and
Hard-Wearing.
The steel construction is extremely strong and durable. The antimicrobial coating provides long lasting protection.

8, 15
Drawers Heights (cm)
30, 40, 50
Drawers' Depths (cm)
Product Map