About The Client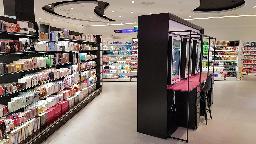 The client is a large supermarket chain based Israel. It currently has over 248 stores and employs over 12,000 employees across the country.
When it came to re-launching it's pharmacy brand the team were looking for solutions that would purvey a professional look, enhance the stores and keep customers returning.
The Project


The project was a huge re-launch involving the initial re-fitting of 10 stores. If successful this style would then be rolled out country wide.

Employing a design team the management approved a change, which included new pharmacy retail shelving systems, LED shelf lighting and wooden accents to enhance the space and result in a warmer more inviting feel.
The Solution


With vast experience in Pharmacy fitout, CAEM provided its M25 Robust, modular retail shelving system and Ardente LED lighting solution. Working closely with the local shop fitting provider to ensure that all the display fixtures were to the correct colours, sizes and specifications to fit the needs of the customer designs.
The team at CAEM also worked with the suppliers of the wooden aspects to ensure the supplied parts and custom aspects were compatible and complemented each other perfectly.
The initial roll out of 10 stores was a huge success and customer feedback very positive. Because of this the business intends to roll out the combined solution to other stores across Israel.
Key Points:


Uses CAEM M25 Modular Retail Shelving
Uses CAEM Ardente LED Shelf Lighting
Smaller Pitch Holds More Retail Items
Robust Structure
Durable, Long Lasting Powder Coat Finish
Multiple Colours Available
Functional Yet Beautiful