About The Client - French Discount Retailer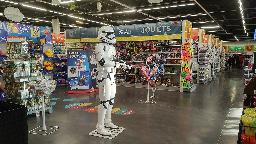 Our client is a French value chain of retail stores specialising in products for around the home and garden. Its product range includes everything from small electronics through clothing, homewares and even carpets and furniture.

The business was established in 1981 and now has over 480 stores around the world, including sites in France, Belgium, Spain and even Africa. The chain is still a family run business, with the founder still its president and CEO.

The Project


With a massive range that encompasses everything from toys to bathroom accessories it was important that each department had its own look and feel and could effectively display and attract customers to the products.

This retail fitout project was an interesting challenge requiring a huge number of store shelving and racking designs to encompass the range, from tiny products that could be hung on hooks, through to rolls of carpet and other large goods requiring custom structures to ensure they were held firmly. Additionally with an ever-changing range of products and offers, store shelves needed to be easy to re-configure with prominent and easy to change POS.

The Solution


With over half a century in the retail shelving industry, CAEM understood the needs of the client and had the facilities and products to provide the huge variations of shop shelving and POS they required.

The time tested CAEM TN9 store shelves were chosen for flexibility and the ability to be quickly reconfigured to react to changing stock. Each area of the store was carefully designed to with effective retail displays for the goods they contained. Touches such as LED shelf lighting and glass shelf options were used to add to the aesthetics and enhance the shelving for items such as glassware.

Different colour options were also implemented. The extensive use of White gives a clean look, and moves away from traditional cream, whilst the Grey accents are used as a modern complement.

The large areas of integrated POS allow for changes to messaging to be implemented quickly. This allows the business to react to changes in products or seasonal offers. Solutions even included lit panels and integrated digital interactive elements.

Key Points:


Uses CAEM TN9 integrated shop shelving and racking
Encompasses a range of designs to fit differing portfolio
Large, easy to change POS messages
Glass shelves
Integrated LED retail shelf lighting, lit elements and multimedia
Improved visibility of products
Long lasting powder coated finish
A selection of colours and materials complement the company brand