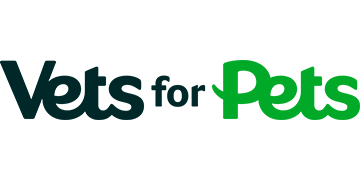 About the Client.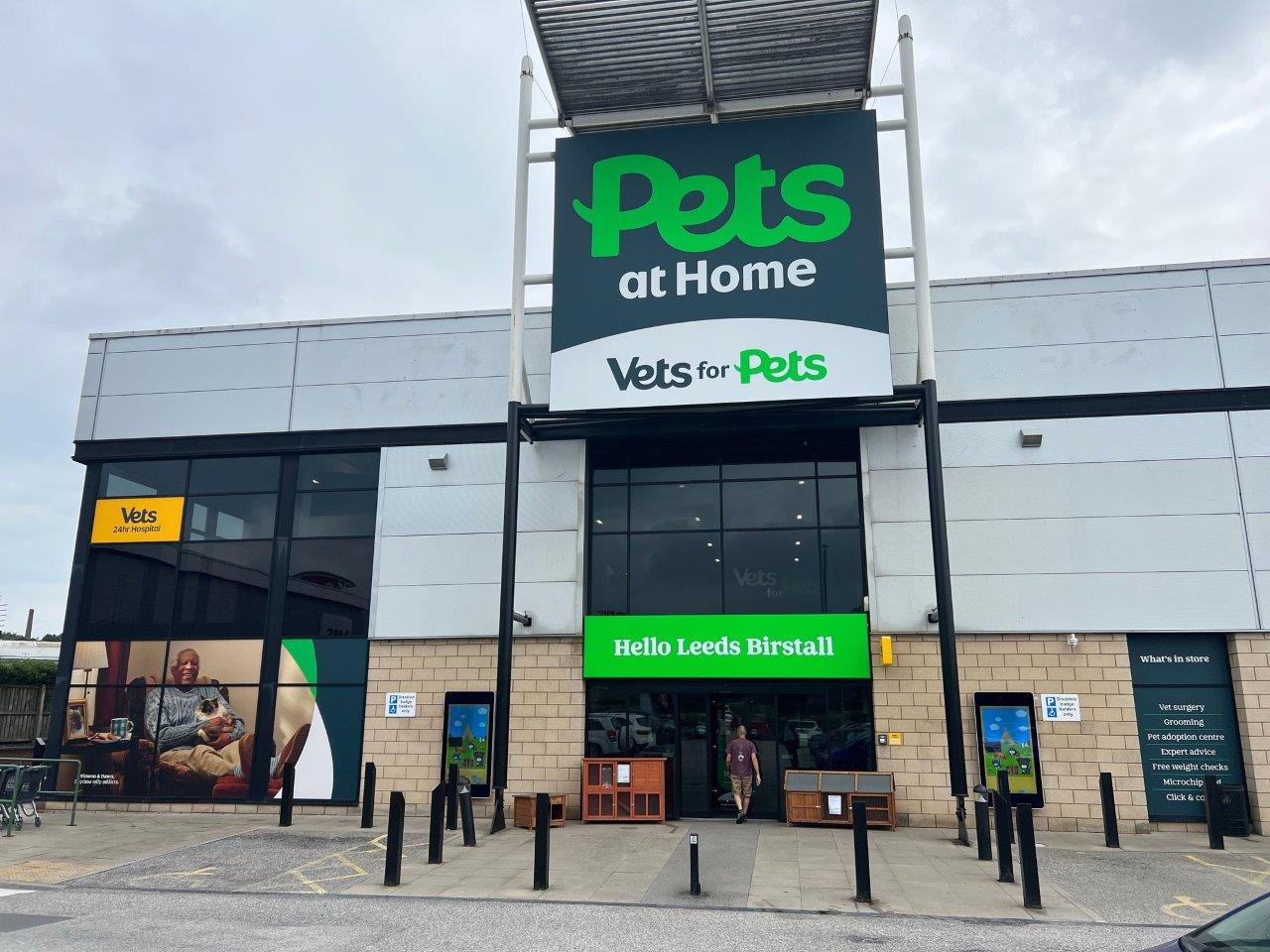 Vets4Pets is a long established network of veterinary practices with sites across the UK. Its teams have been offering the very best veterinary healthcare and advice to pets and owners since 2001. 
Vets4Pets cares for all kinds of animals including dogs, cats, reptiles, rabbits and guinea pigs, and offers the full range of veterinary services from general animal health treatments and welfare advice, to emergency medical procedures.
Purchased in 2013, Vets4Pets is now a subsidiary of Pets at Home, with many Pets at Home Stores now featuring Vets4pets (Vets for Pets) veterinary practices.
The Challenge
During 2023, due to the success of its Leeds Birstall veterinary hospital, the company decided to expand its facility to increase both its ability to treat more animals, and stock/issue more medical stock.
The existing pharmacy was constructed from a selection of bulky timber units, cupboards and drawers with insufficient capacity for their needs. Further, the timber solutions were not modular, adjustable or expandable to their requirements. The old units also made it hard to manage stock, and rotate items.
Lara, the Stock Administrator at Leeds Birstall Vets for Pets Hospital said: "Our pharmacy used to stock medication in small cupboards with glass doors. This was a continuous struggle to keep organised. As for stock rotation, we would have to pull all current medication out of the cupboard, to place the new ones at the back."
In order for the upgrade project to be a success, the team needed to seek out a supplier that understood the specific needs of pharmacy, that could provide a selection of cost effective solutions to maximise the space available and ease the pain of constantly churning stock.
Any solution needed to reduce the time spent refilling, allow simplified stock control and rapid access to items. Along with storage there was also a requirement for desk space, and working areas within the pharmacy.
The Solution
The team at Vets4Pets contacted a number of suppliers with experience in the Pharmacy and Veterinary sectors. Unfortunately these offered some but not all of the options they required. 
Ryan Mortimer, General Manager at Vets4Pets Leeds Birstall said: "I went looking for a new pharmacy kit provider as part of the extension to our hospital. We wanted a company that were easy to work with, listened to what we wanted, and made high density drug storage much more user friendly, and most importantly, increased productivity." 
After contacting CAEM, the team were introduced to its D25 modular, steel pharmacy solutions, with a selection of drawers, counters and shelving. D25's modular nature makes it highly customisable and adjustable to the needs of each individual pharmacy/veterinary environment. The system is designed to maximise space, and increase efficiency without the need for often inflexible custom timber. 
The Leeds Birstall team were impressed by the system, appreciating its capacity, usability, modular nature and its wide variety of options. Leeds Birstall opted for a selection of D25 Readydrawers, Floordrawers, shelves and worktops. Shelves and drawer units were complemented with a selection of risers and dividers to easily compartmentalise stock and aid organisation. Worktops attached to the strong steel uprights were specified to provide convenient working spaces, while terminals and wiring were quickly attached and routed cleanly out of the way. CAEM's clever Floordrawers allow for space that is usually forgotten to be maximised.
Highlights
• Configure, and Reconfigure.
With its steel structure, based on CAEM's shelving technology, you are not limited to a single install configuration. D25 flexes to your individual space and room shape. It also doesn't need to stay that way, you can reconfigure at any time based on your growing requirements. 
Image: Leeds Birstall have combined shelves, drawers and working space in one unit. The D25 sits tight to the wall, maximising working space.
•  Strong and Flexible.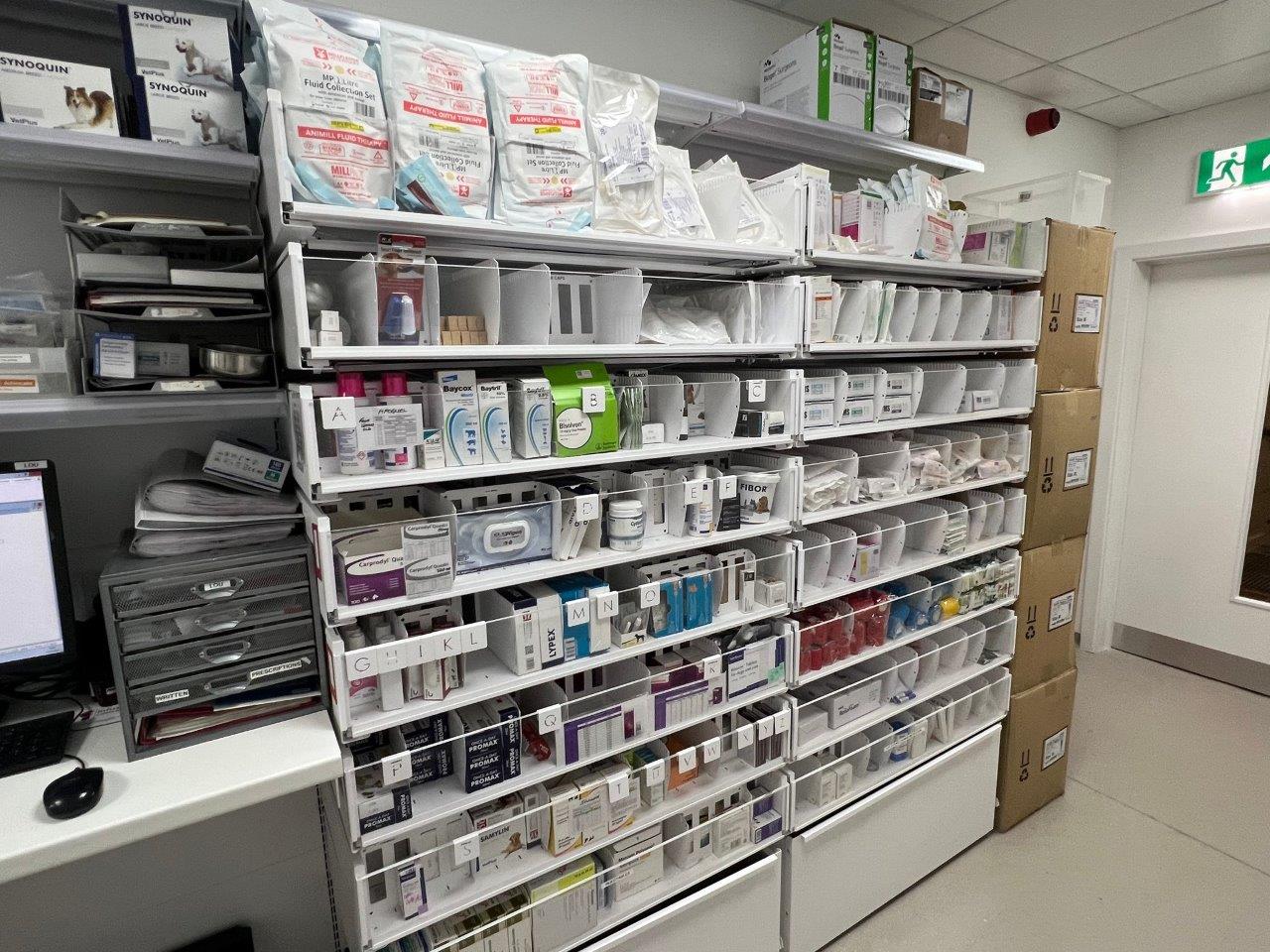 CAEM drawers secure to the steel structure and can be configured flat or at an angle of 15 degrees depending upon your needs. Heavy angled drawers are no issue as they feature an adjustable mechanism, designed to aid in their return. 
Image: Leeds Birstall opted for banks of CAEM's Readydrawers which can be adjusted to fit the size of your stock (including different height fronts), and have the option of dividers to quickly compartmentalise stock. 
•  Massively Increased Capacity.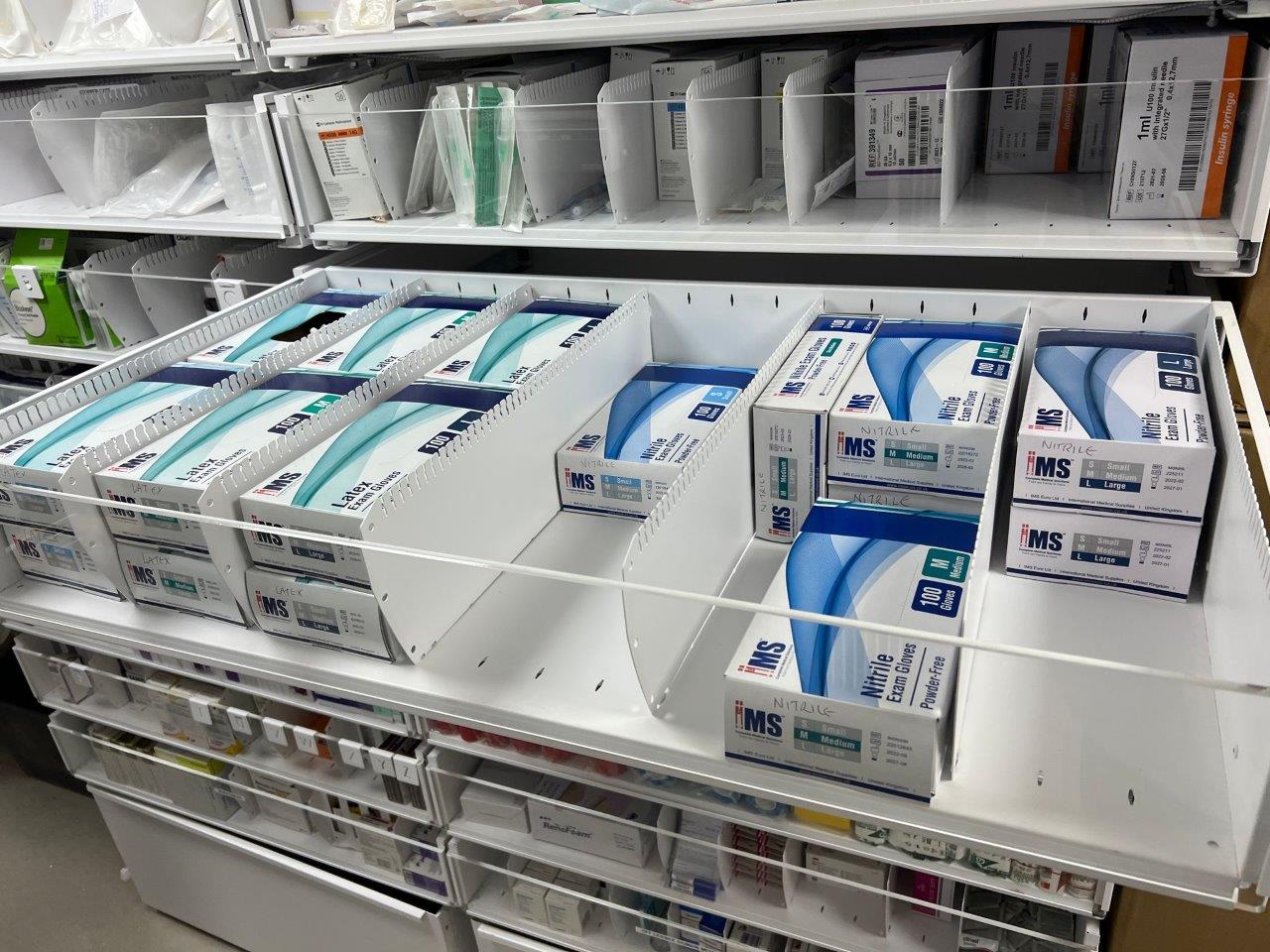 Back to front and side to side dividers allow the drawers to be configured to the sizes of the packages. This aids in increasing the density of the storage, packing more items into less space. Left: Leeds Birstall utilises the dividers to great effect. Each drawer is configured for specific stock and items are packed tightly
•  No Space Wasted.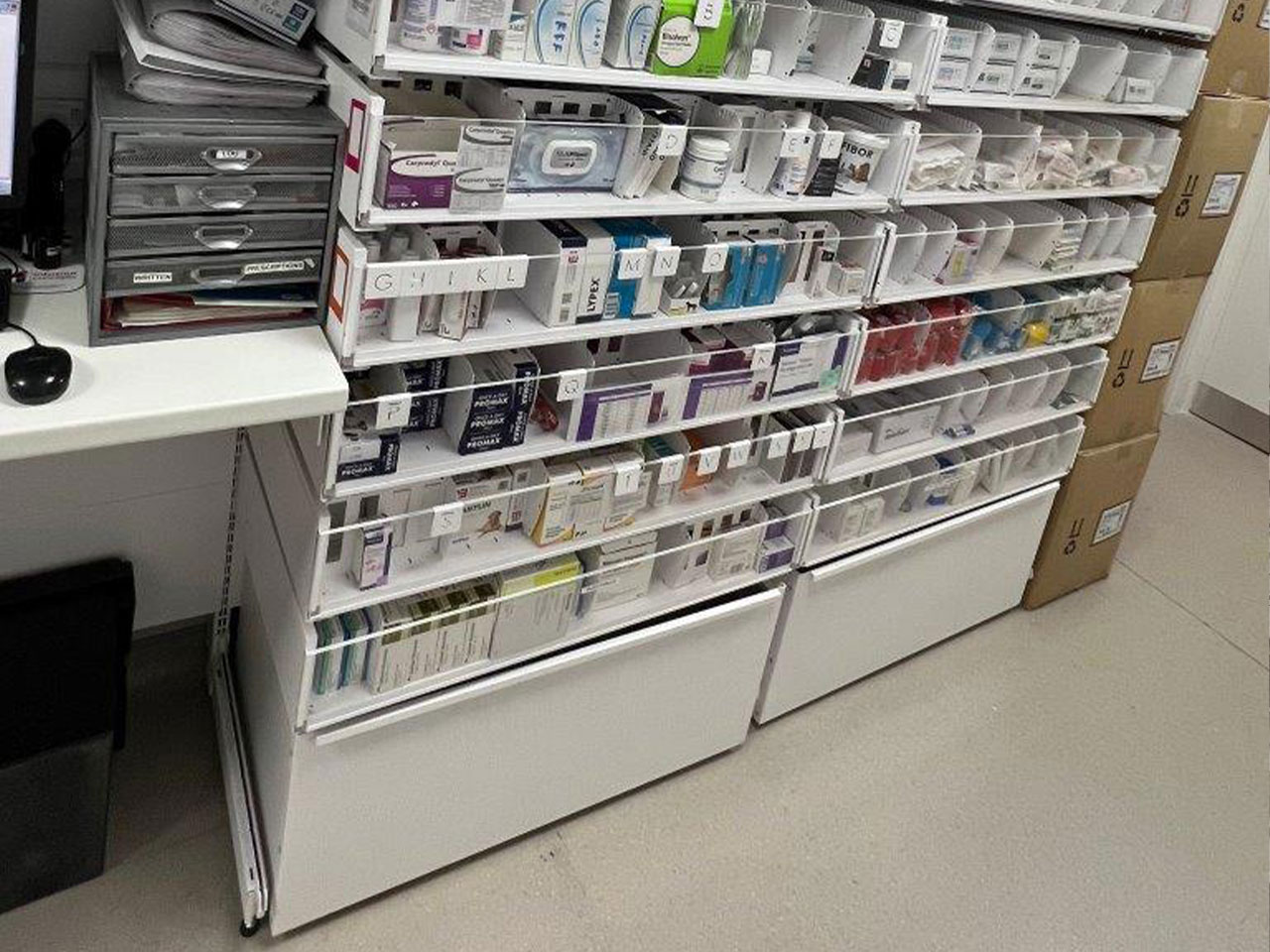 D25 is designed to maximise storage. Floor drawers make use of often wasted space. Complete with castors Leeds Birstall use Floordrawers. They fit seamlessly under the units and pull out when required. These deep drawers are perfect for larger items that wouldn't normally fit within a drawer system.

•  Simplified Stock Rotation.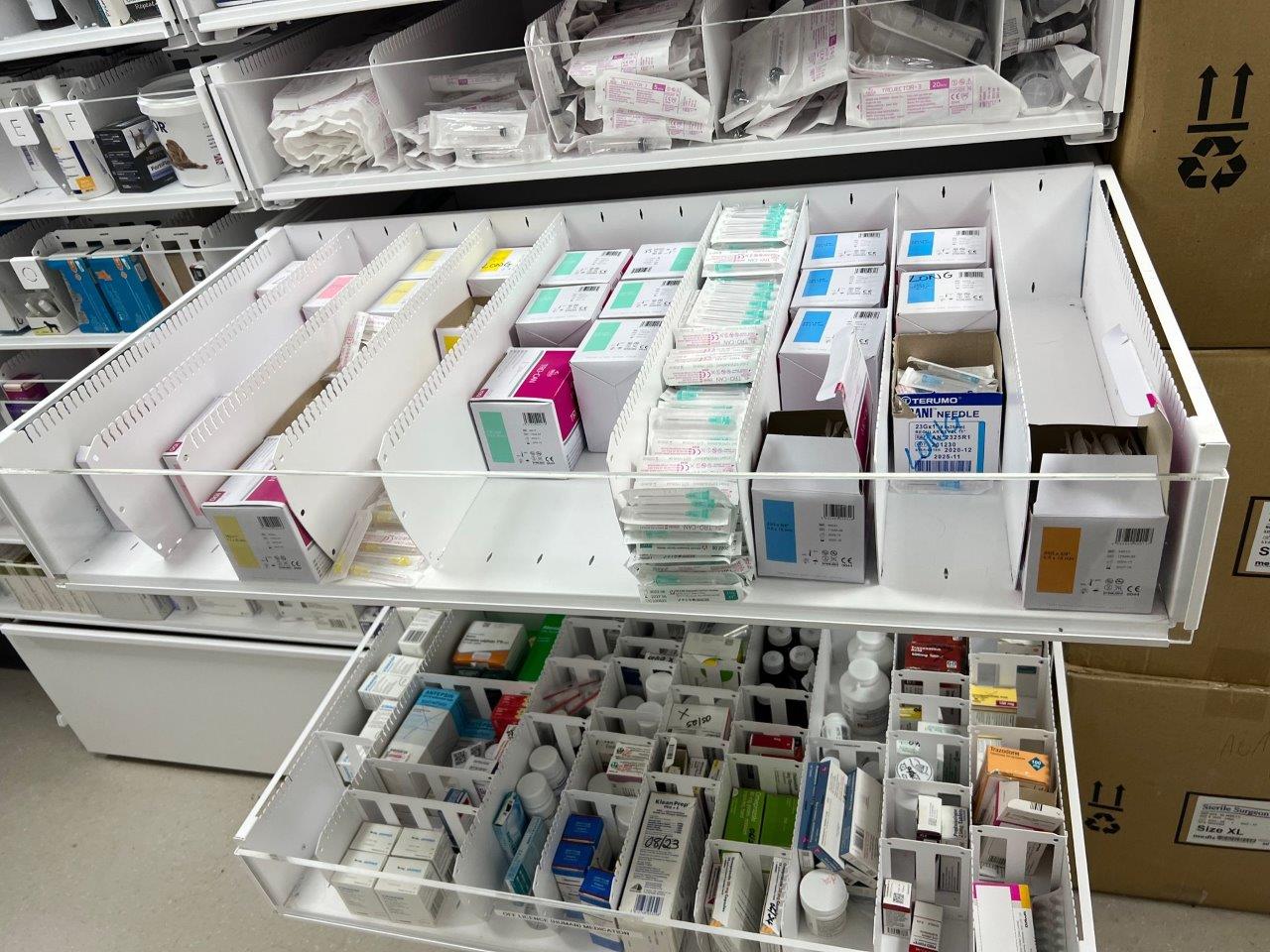 D25's drawers can be opened 100%. This is unusual in the market and allows items, even at the back to be accessed easily. This small change aids in stock replenishment. No more pulling everything out of a cupboard to re-stock. The Leeds Birstall team can add products simply and quickly with no more need to remove and re-organise everything to fit it in.

•  Mix Drawers, Counters and Shelves.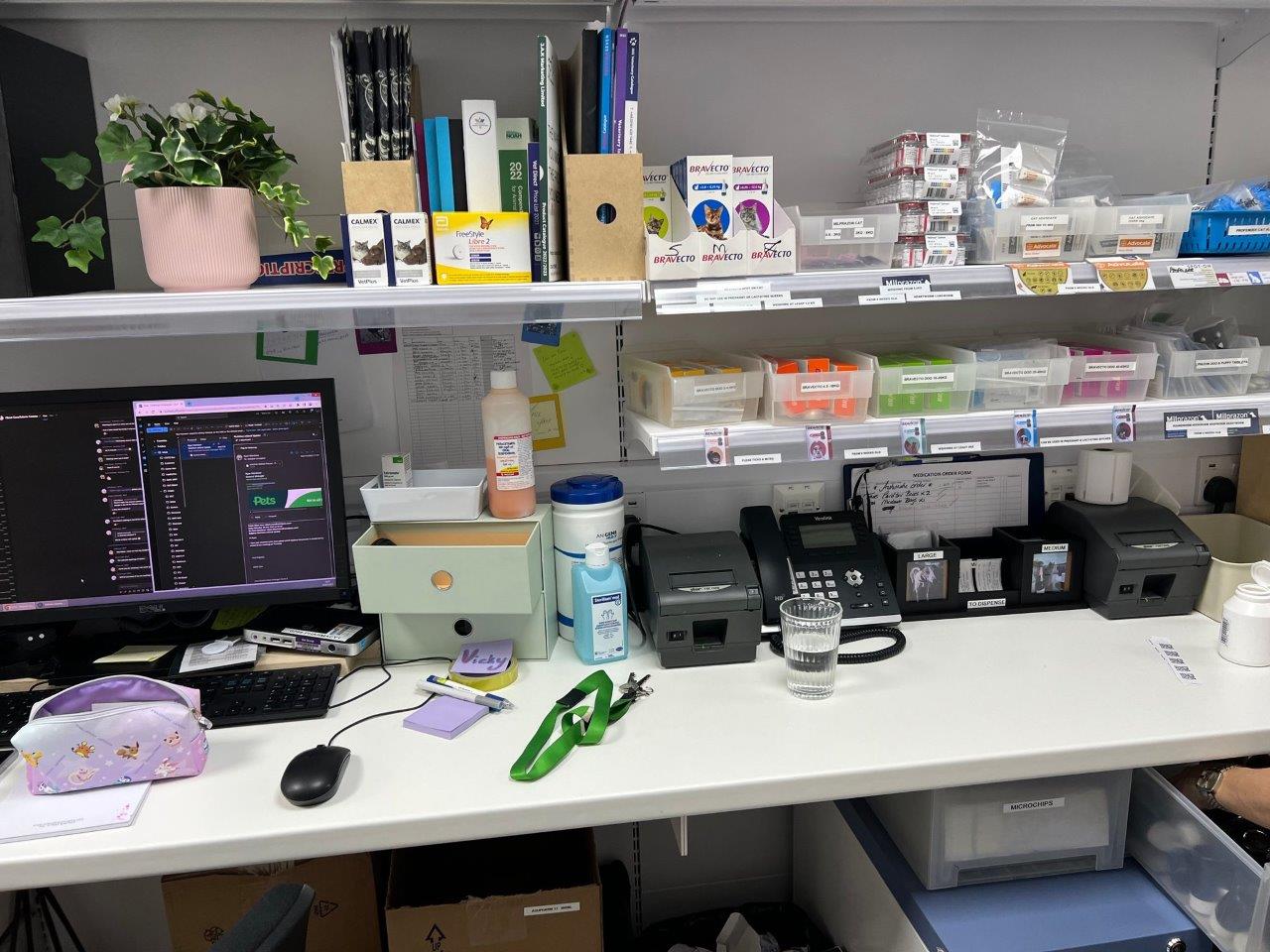 D25 can be configured with shelving, drawers and workspaces to increase efficiency and maximise space. Make more efficient use of wall space, or even add an island if required. Leeds Birstall configured its wall bay, with drawers and a desk area. Additionally the desk area features shelves, and routing for a terminal and its cables. As with other areas, the shelves and other items can be substituted and reconfigured quickly and easily.

•  Greater Visibility, or Privacy.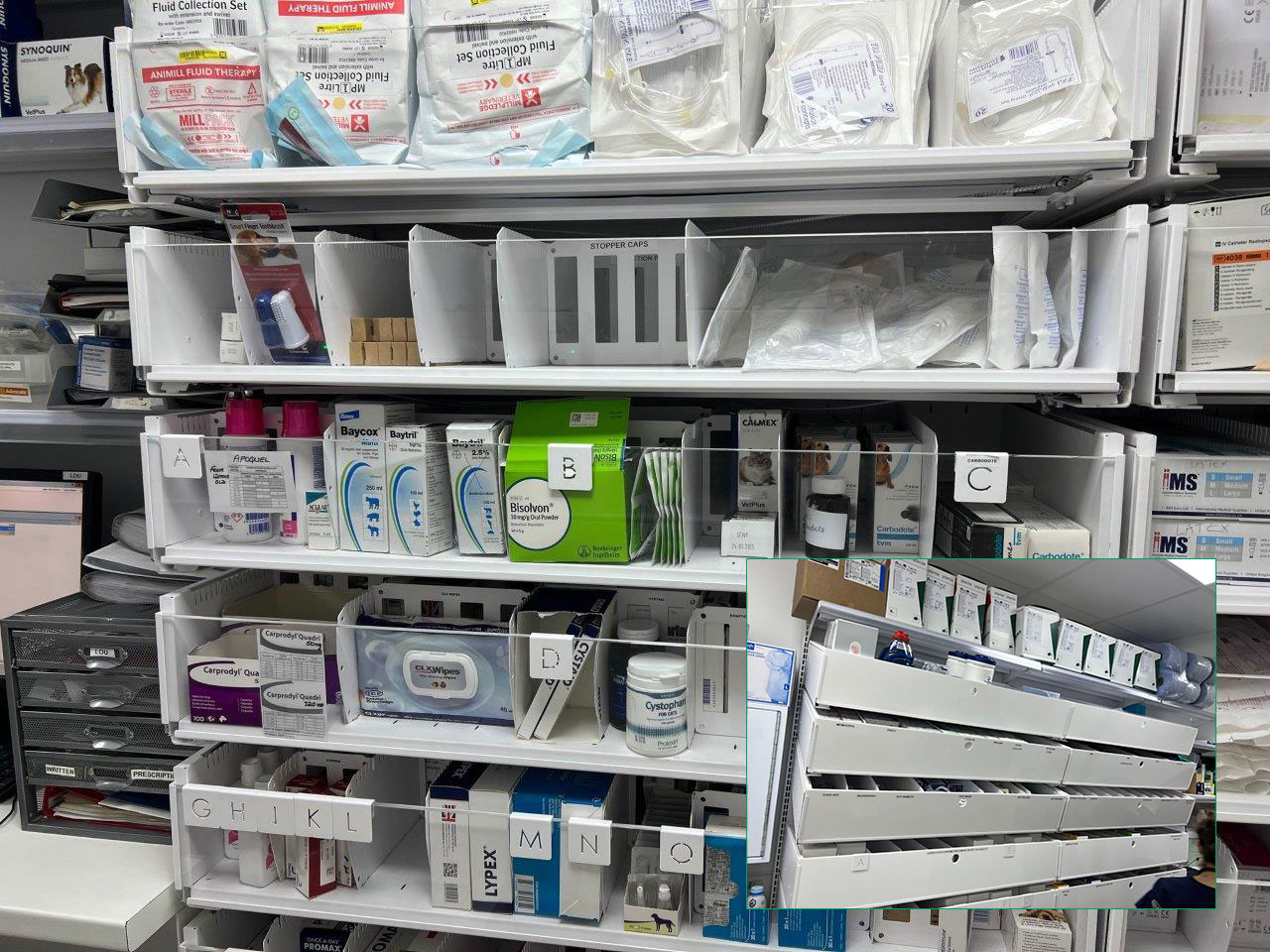 D25 drawers can be specified with opaque or clear fronts depending upon the confidentially and security of the items being stored. Clear fronts allow the easy identification of items, especially if the drawers are angled. While opaque fronts keep drugs hidden, and prescriptions confidential. Leeds Birstall use both clear and (inset) opaque fronts. They also use the clip on lettering to quickly label drawer contents.

Results
Vets4Pets has seen a marked increase in storage, combined with efficiency and time savings.
Ryan Mortimer, General Manager at Vets4Pets Leeds Birstall said: "We have seen a noticeable difference in productivity when it comes to drug management and prescribing. Certainly worlds away from the kitchen cupboards we had before!"
Lara, the Stock Administrator at Leeds Birstall Vets for Pets Hospital said: "With our recent expansion and refurbishment, we had the CAEM shelves installed. Putting medication away has been done more efficiently with stock rotation. Being able to adjust the shelves and add in the dividers has also improved our storage capabilities. 
Even though we moved the pharmacy to a bigger location in the practice, we have found that we have been able to hold a significant amount more stock in our dispensary, this includes stock like needles and catheters, and veterinary prescribed bags of food."

Benefits

The D25 solution selected by Vets4Pets brings the following benefits: 
Fits exactly to the space, maximising storage capacity. 
Improves stock control and rotation with drawers that open 100% 
Greater stock visibility - No more opening cupboards and searching through stock. 
Robust steel construction, for enhanced weight capacity. 
Increased hygiene - The Steel structure is easy to clean and doesn't warp or react to cleaners. 
Easy to re-configure/expand - Items can be moved around the structure, and added to at any time. 
Greater visibility of stock and better organisation with dividers and lettering - It's easier to find stock and replenish it, increasing efficiency.  
More details.

For more details on the D25 solution for Pharmacy, Dispensary and Veterinary settings, please visit our dedicated page. Alternatively get in touch here.