About The Client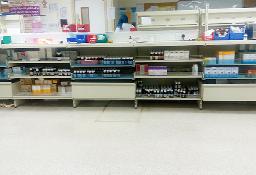 The Royal Hospital is a large, tertiary-level, acute-care hospital based in Muscat, Oman.
It provides state-of-the-art services in the specialties and sub-specialties of medicine, surgery, paediatrics, obstetrics & gynaecology, oncology and laboratory medicine.
The hospital aims to be a centre of excellence, delivering the best quality healthcare services to the area via the best facilities and the employment of the best, most knowledgeable teams.
The Project


The team at the Royal Hospital were looking to update the hospital pharmacy and dispensary area for two main reasons.
A lack of efficient storage – They required secure, robust and reliable pharmacy storage systems for the huge number of products that it carries. The products are supplied in numerous sizes and different package styles so they were looking for a flexible pharmacy storage system that could cater for these packages while allowing product to be quickly found by staff and stock rotation to be achieved. They were also looking for a secure system to allow for the privacy of personal scripts.


Lack of workspace – As part of the install more worktop space for the teams was required together with a counter for serving patients. This should co-exist with the storage.
The Solution


CAEM looked at the space available, and closely examined the brief. This led to recommending the installation of its standard shop shelving, D25 pharmacy storage and Medi-Drawer pharmacy drawers. These solutions made the best use of the available space, provided a clean open feel and provided the modular flexibility to build the different solutions required.
For standard stock and back of house the team implemented CAEM's standard retail shelving units with wire dividers to keep items visible but separated into their individual groups.
CAEM Medi-Drawer pharmacy drawers were then used extensively to store medical stock. These utilised both wall units and gondolas as required. The angled medical drawers with clear fronts allow for the easy identification of their contents and simple stock rotation.
Finally a pharmacy counter complete with under counter drawers (both standard metal and Medi-Drawer) allows for huge amounts of storage at the counter for commonly required items.
Key Points:


Maximises available space with a combination of gondola and wall units.
Steel, hygienic and easy to clean/maintain (space under the units allow this area to be easily cleaned).
Uses Medi-Drawer pharmacy drawers to tightly pack in product while ensuring visibility and easing stock rotation.
Metal dividers allow for the simple division of drawer space.
Provides pharmacy storage for a huge cross section of products.
Metal drawers provide security.
Under unit drawers maximise otherwise wasted space.
Integrated desktops provide working space, without increasing footprint.
CAEM are highly experienced in the supply of Pharmacy and Dispensary fixtures to aid sales (in highstreet settings), store drugs and maximise space. To find out more about our experience and how we can support your pharmacy fitout, get in touch.