About The Client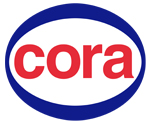 Cora is a retail group of hypermarkets established in 1974 by the supermarket holding Louis Delhaize Group. Cora is one of the brands owned by the group the others include: Louis Delhaize, Match, Profi, Truffaut, Ecomax, Animalis, Sovena and Houra. The name 'Cora' is borrowed from the Greek goddess Persephone (Roman: Proserpina) who is also known as Cora.
This particular example is one of the hypermarkets located in and around Bucharest, Romania.
The Project


The Cora team were looking for a range of shop shelving solutions that would effectively display the huge cross section of goods that they sell. This would require specific store solutions / shop fittings for some of the ranges (such as colour coded or lit shelves) and retail shelving strong enough to deal with their bulk isles where heavy goods (such as water bottles and tinned goods) are often piled high.
Sourcing of a single supplier was seen as an advantage, and CAEM was selected to supply the solution via a shopfitting partner.
The Solution


CAEM provided Cora with a range of shop shelving and racking solutions that help them to merchandise more, and consequently sell more product. The integrated racking system allows them to pile even heavy items high and stock more.
Special store shelves were manufactured for the perfumery and cosmetic department. This was provided in White with Ardente LED lighting to enhance the product and encourage sales.
Special bread displays were developed with timber accents to provide a more rustic look and complement the products being sold.
Finally shop gondolas in the wine isle are fitted with beautiful timber accents and an all timber canopy system with integrated lighting.
Key Points:


Attractive metal shelving with a mixture of store solutions for each department and product as required.
Heavy duty shop fittings for bulk buy areas.
Timber accents and canopies with lighting to enhance the wine isle.
Integrated LED Lighting to enhance product.
Timber accents to enhance the bread a baked goods area.