About The Client - BigMat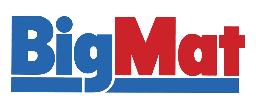 BigMat is a leading European brand specialising in building materials and tools. The business operates across 7 European countries: France, Spain, Portugal, Italy, Belgium, Czech Republic and Slovakia.
BigMat group consists of 84 independent trading companies in France with 283 retail stores. These operate as cooperative with members that are both customers and partners. Across Europe the business has around 890 stores that carry its brand and this number continues to grow.
The Project


With a huge range of products to show the public and trade, BigMat was looking for point of sale display (pos display) that could be used at events and within retailers to show off their products. They required something that was easy to transport, disassemble and reassemble, that was highly flexible, and also robust to ensure that even the heaviest items were kept securely.

Brand was also important, with colour accents to reflect the Blue and Red of the BigMat logo and whichever brand was being promoted on the display at the time. Any solution chosen needed to be clean and bright, and also be secure whilst free standing.

The Solution


BigMat contacted CAEM to search out a solution and the team at CAEM instantly knew what to suggest.
With often heavy merchandise, shop gondolas were constructed from the highly adaptable CAEM M25 store shelving system. These were fitted with perforated back panels (peg boards) to allow for store shelves, hooks or a combination to be installed depending upon the product being displayed.
The system itself including the metal shelving and uprights were coated in brilliant White to ensure that the shelving units looked bright and inviting, whilst the POS was coloured BigMat Blue and the kicker panels were custom powder coated in Red to reflect the BigMat brand.
The double-sided nature of the shop gondolas was beneficial in several ways. Shop Gondolas retain the stability whilst loaded on a single side and can be weighted out of sight if required. If a double sided display is required then store shelving and/or hooks can be added on either side. Leaving space above the shelving allows for large advertising to be attached whilst adjustable shelving means both adaptability for different sized products and the ability to add advertising to the store shelves themselves.
CAEM metal shelving systems are extremely versatile with solutions able to flex to your individual needs. But sometimes you need something out of the ordinary. Where you need something truly different then we can also help. Our in-house design, research and development teams are experts in the production of custom items. We also have a comprehensive manufacturing plant in the UK, so get in touch with your requirements.
Key Points:


Flexible shop gondolas
Custom coloured EPOS
Gondolas ensure stability
Bright White enhances the products
Long lasting powder coated finish
Custom colours complement the BigMat brand