As you'll probably know, at CAEM we are a cutting edge developer and manufacturer of shop shelving solutions, predominantly manufactured from steel. With this manufacture and supply there comes a great deal of energy use and potential waste, all of which impacts the environment.
We are aware of this impact and the levels of Co2 produced by our manufacturing and the logistics of the business. In recent years we have been consciously taking steps to reduce and offset our Co2 output, and reduce the wastage within our factories. See more details here.
One area which is harder to control is logistics. We often use third party businesses to move our product between our factories, and from our factories to customer sites. This is predominantly achieved via road transport.
One step that we are now taking, is removing, where possible, the use of road haulage. When large consignments are moved between or factories (in Italy, UK and China), or from our international suppliers, we are moving our logistics towards rail and short sea. This is considerably more efficient (For example: rail produces 75% less Co2 emissions than that of road freight transport*) and saves many tons of Co2.
Below is a certificate demonstrating how effective this can be.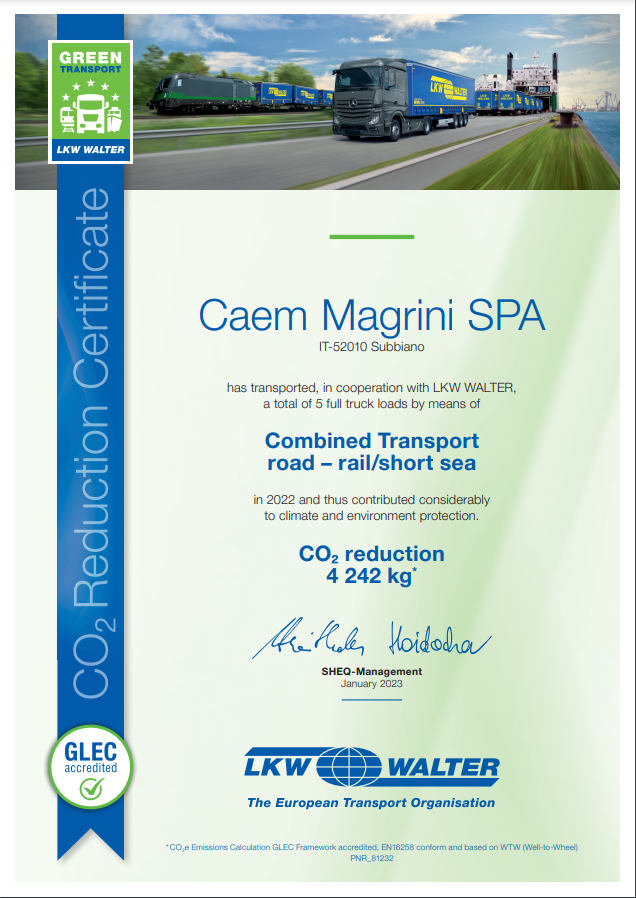 If you're looking for a sustainable partner for your retail fixtures, then look no further than CAEM. Are teams are focused on cutting our impact while ensuring you are still receiving the best products in the market. 
For more information on our environmental projects see our ESG page here. If you are looking for fixtures, then get in touch here to discuss your individual needs.
Source:
*https://www.railfreight.com/policy/2020/01/08/rail-freight-produces-6-times-less-co2-than-truck/