About The Client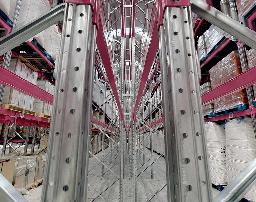 FTS Hatswell (FTS) are a storage and distribution company based on Deeside Industrial Park, North Wales.

FTS offer Logistics Solutions tailor made to suit customer requirements, from the delivery of single pallets throughout the UK and Europe through to providing dedicated customer fleets and storage of raw materials and finished goods.
The Project


As part of a refit of its warehouse the team at FTS were searching for a warehouse racking / industrial racking solution that would allow them to maximise the capacity of their warehouse, endure repeated pallet movement and provide secure, robust and durable long and short term warehouse storage for the their clients goods.

The Solution


After examining the needs of FTS, the proposed warehouse space and its usage requirements, the project team at CAEM suggested the ROSSS Iron Fist warehouse racking solution.

This pallet shelving was perfect for the needs of FTS, providing a cost effective and easy to configure system that both reduces install time and provides customisable options for warehousing and logistics businesses.
Key Points:


Uses ROSSS Iron Fist Pallet Racking
Robust and durable for heavy storage racking
Huge capacity
Long lasting powder coated finish
Multiple colours available
Functional yet aesthetically pleasing