About The Client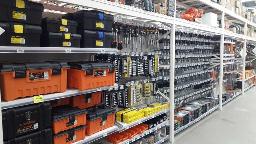 Santandreu is a leading Mexican Construction and DIY retail brand.  

Established in 1935, the business has steadily grown and now encompasses a large chain of branches across the South East of Mexico.
The Project


Santandreu was looking to update its retail stores with a range of store shelving and racking to more effectively merchandise its huge range of materials and products.

They approached CAEM to provide shop shelving that would allow the differentiation of differing areas of their retail store and provide store solutions that would effectively show-off the huge range of products of varying shapes, sizes and weights. Materials should be easy to access for customers and tools and fixings easy to find. Additionally the team wanted be able to store more product on the shop floor by integrating racking into the system.

The Solution


CAEM provided a selection of store shelving solutions based around its robust M25 four post modular retail shelving/ store shelf units, in both gondola and wall formats. These were enhanced with a variety of back panels and options to fit its various product groups. The compact shelving allows a great deal of flexibility for the customer, with effective display of the smallest through to the largest items.

Additional peg board backs allow the store shelving to be quickly converted from shelves to hanging hooks, or a combination of both.

The four-post shelving system allows for integrated racking and storage above the main retail space. Integrated LED lighting accentuates the products even within an often weakly lit warehouse environment.
Key Points:


Uses CAEM M25 Modular Store Shelving
Integrated Shelf Lighting
Smaller Pitch Holds More Retail Items
Robust Structure
Durable, Long Lasting Powder Coat Finish
Multiple Colours Available
Functional and Beautiful