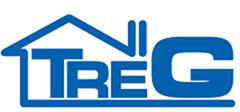 About the Client
Tre G Group is a Italian retail chain specialising in homewares. The business has stores across Italy, with this particular store based in San Giovanni Rotondo in the province of Foggia, Apulia, Italy.

The Challenge
Tre G group was looking for new fixtures for its store in San Giovanni Rotondo. These needed to have a modern aesthetic and encompass steel together with timber elements. 
The shelving solution needed to be flexible, and allow the successful display of a huge range of items, from small loose pieces, products in bags and boxes, through to full furniture units. The shelving needed to be easy to reconfigure to the ever changing inventory.
The Solution

Tre G discussed their requirements with Puglia based CAEM distributor Dr Scaffalature and the local agent. Designs and layouts were agreed, and CAEM M25 gondola shelving and wall units were provided in Dark Grey to provide a modern twist which complements and accentuates the products on display. These shelving units were also combined with a selection of timber panels to break up the metal, bringing warmth and a more organic feel to some areas.  
The Result
Tre G had close working relationship with both the CAEM agent (Zaccaria Grimaldi) and our distributor Dr Scaffalature.​ Combined, they supplied a selection of layouts, project elements and product suggestions to inspire and supply the needs of the business.
The manufacture and supply of the fixtures and fittings synchronised perfectly with the installation. The resulting store is inviting, clean and professional, enticing customers and guiding them to the items they require. 
The CAEM M25 shelving solution is almost infinitely configurable and provides far more than regular 50mm systems. With clever design and centralised back panels the M25 shelving solution from CAEM allows you to merchandise more in less space.
Get in touch to find out more about this system or solutions for homewares stores.